About Our Town
Castile is a Town in Wyoming County, New York, USA. The population was 2,873 at the 2000 census. The Town is named after Castile in Spain.
The Town of Castile is on the east border of the county. The Town contains a Village, also named Castile.
History
The Town of Castile was established in 1821 from part of the Town of Perry. View the history page for more information.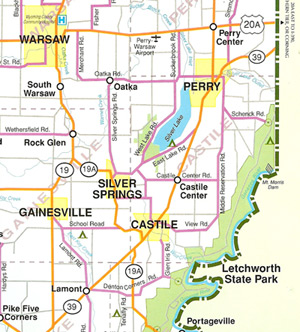 Directions
Main Street Castile is located on Route 39.
From Rochester:
Take 390 South to exit 8. Go south on 20A through Geneseo. Follow 20A to Rt. 39. Proceed south on 39 through Cuylerville, Leicester and Perry until you come to Castile.
From Buffalo:
Take the 400 to East Aurora. Take 20A east to Warsaw. Turn south on Rt. 19. Continue to Rt. 19A heading southeast to Rt 39. Turn left on 39 into the Village of Castile.
From the South:
Follow Rt. 19 to 19A until Rt. 3. Turn northeast on 39 into the Village of Castile. Or take 390 to Mt. Morris exit at Sonyea. Proceed north on 36 to the intersection to 20 and Rt. 39. Take 39 south thru Perry to Castile.
Geography
According to the United States Census Bureau, the Town has a total area of 38.4 square miles (99.6 km), of which, 37.0 square miles (95.9 km) of it is land and 1.4 square miles (3.7 km) of it (3.75%) is water.
Part of the east Town line is the border of Livingston County, New York.
Demographics
As of the census[1] of 2000, there were 2,873 people, 1,128 households, and 788 families residing in the Town. The population density was 77.6 people per square mile (30.0/km). There were 1,679 housing units at an average density of 45.4/sq mi (17.5/km). The racial makeup of the Town was 98.43% White, 0.45% Black or African American, 0.21% Native American, 0.31% Asian, 0.10% from other races, and 0.49% from two or more races. Hispanic or Latino of any race were 0.52% of the population.
There were 1,128 households out of which 32.0% had children under the age of 18 living with them, 56.2% were married couples living together, 8.6% had a female household with no husband present, and 30.1% were non-families. 25.3% of all households were made up of individuals and 12.5% had someone living alone who was 65 years of age or older. The average household size was 2.49 and the average family size was 2.97.
In the Town the population was spread out with 24.5% under the age of 18, 8.0% from 18 to 24, 27.3% from 25 to 44, 24.7% from 45 to 64, and 15.4% who were 65 years of age or older. The median age was 39 years. For every 100 females there were 99.1 males. For every 100 females age 18 and over, there were 95.8 males.
The median income for a household in the Town was $35,762, and the median income for a family was $40,991. Males had a median income of $30,529 versus $21,500 for females. The per capita income for the Town was $17,448. About 7.6% of families and 10.7% of the population were below the poverty line, including 13.4% of those under age 18 and 4.3% of those age 65 or over.
This article is licensed under the GNU Free Documentation License.
It uses material from the Wikipedia article "Castile (town), New York".