The History of Castile
The first settlement in the Town of Castile was a sawmill built by Robert and Daniel Whaley of Caledonia, NY. It was built about a half mile from the mouth of Wolf Creek, a tributary of the Genesee River which runs through the current Letchworth State Park. Robert and his wife Janet built a log house on the present Allegany Road (NYS Route 39). The house was soon turned into a tavern and rest stop for travelers and early settlers.
Ziba Hurd and Jonathan Gilbert, from Vermont, were the first settlers of the Village later known as Castile. Ziba Hurd got a title to the land from the Holland Land Co. The title included 400 acres of dense forest and was dated 1816. Ziba Hurd and his wife Sally built the first frame house in the Village. Mr. Hurd was, among other things, the first postmaster in Castile. It is believed that Sally Hurd was the person credited with choosing the name of Castile, due to her fondness of things Spanish.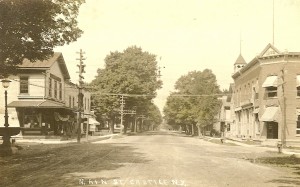 Castile grew rapidly during the early 1830's with all the necessary mills, shops, businesses, churches, schools, etc. to accommodate the growing community. But more than anything else Castile has been famous for its Sanitarium, also called the "Water Cure". It was founded in 1849 by Mr. Jabez Greene, as a hydropathic institution. Upon his death in 1864 his daughter, Dr. Cordielia A. Greene, M.D., took over. Dr. Cordelia A. Greene was remarkable, not only as one of the early woman physicians, but also as an active member of the Women's Suffrage Movement. She operated "The Water Cure" until her death in 1905 when her niece, Dr. Mary Greene, M.D., assumed its operation. The Greene family continued operation of the facility for a total of 108 years until it was sold in 1957 after Dr. Mary Greene's death.
Other famous names in Castile history include: Mary Jemison, called "White Woman of the Genesee", who was captured by and lived her life with the Seneca Indians, raising a family and enjoying the company of friends and neighbors in the Castile area; and William Pryor Letchworth, who gifted New York State with the land now known as Letchworth State Park, much of which is located within the Town of Castile.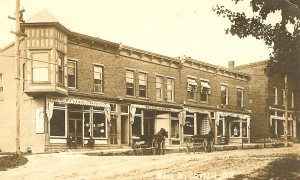 Castile, located midway between Rochester and Buffalo, remains a small non-industrial community with a population of about 2900 residents (1050 Village residents). Many current families can boast several generations of ancestors who have enjoyed the rural lifestyle that Castile continues to the present day.